Curried Chicken with Couscous Salad (with cranberries)
This is a great recipe from Cuisine at Home magazine.
Calories:345
Makes 2 servings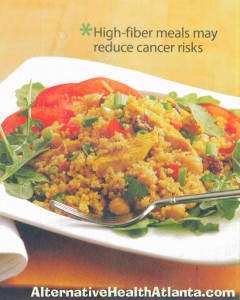 Total time: 30 minutes
INGREDIENTS:
1 1/4 cups low sodium chicken broth
1 Cup thinly sliced boneless, skinless chicken breast or chicken tenders (6 oz.)
3 tsp. curry powder, divided
1/2 cup dry whole-wheat couscous
1/2 cup garbanzo beans, drained and rinsed
1/4 cup chopped scallions
1/4 cup minced fresh cilantro leaves
2 Tbsp. dried cranberries
1 Tbsp. Dijon mustard
Sriracha to taste
1/4 tsp. kosher salt
2 medium tomatoes, sliced
Arugula
DIRECTIONS:
Bring broth to a boil in a medium saucepan over medium-high heat.
Poach chicken pieces in broth until cooked through and no longer pink, 2-5 minutes; remove to a plate. Toss chicken with 1 tsp. curry powder; set chicken aside.
Return broth to a boil. Add couscous, stirring quickly. Remove pan from heat; cover pan. Let couscous sit 5 minutes, then transfer it to a mixing bowl.
Fluff couscous with a fork, stir in bell pepper, beans, scallions, cilantro, and cranberries. Add Dijon, remaining 2 tsp. curry powder, Sriracha, and salt; stir until well combined.
Arrange arugula and tomato slices on two plates. Spoon couscous salad over arugula and tomatoes. Serve salad warm or cold.