How Your Spouse's Blood Sugar can be Dangerous to YOUR Health
Do you avoid certain people if you know they haven't eaten in a while? Or is someone avoiding you?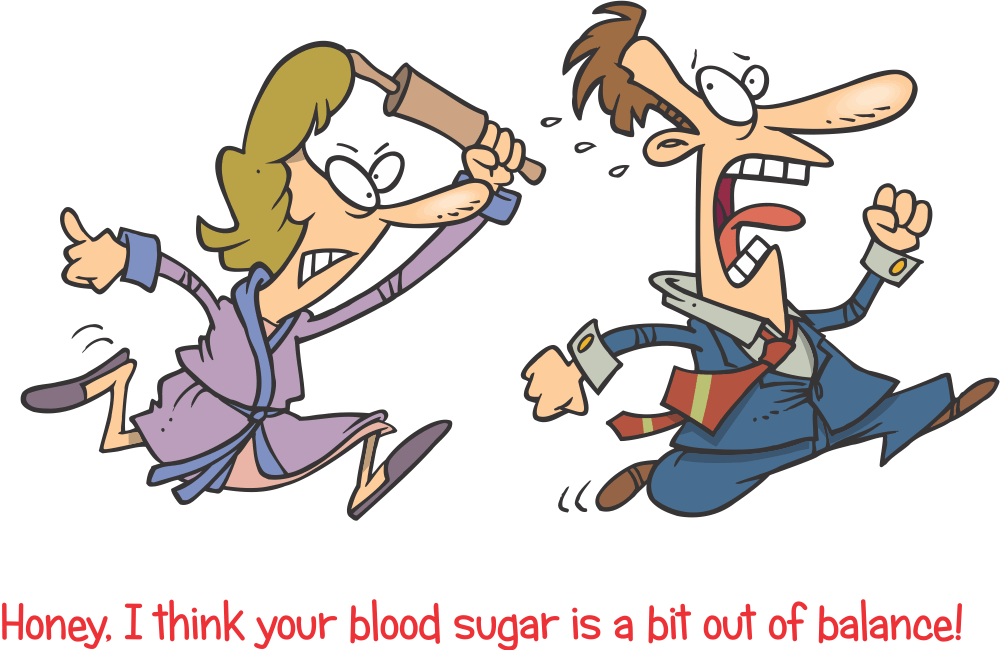 If your brain and nervous system are like a light bulb, the electric cord supplying power to the bulb is your blood sugar. Any reduction creates a nervous system and brain "brown-out" with severe consequences.
Your body's ability to maintain the correct level of sugar in your bloodstream is a vital part of keeping your body healthy and functional.  I'm not talking about diabetes, which is a whole different blood sugar problem. This problem is mainly from adrenal issues, not the pancreas!
Symptoms of Blood Sugar Imbalance
Even though the cartoon makes light of this issue, this can become a serious situation if not handled. Perhaps you or someone you know is dealing with someone who…
"Flies off the handle" at almost anything—when they're hungry?
Can't wake up in the mornings… wanders around in a fog for half an hour?
Can't get to sleep at night, or wakes and can't get back to sleep?
Loses all their energy at 3:00 PM and struggles to stay alert or even awake until after dinner?
Gets anxious, lightheaded and shaky if they get hungry, or even randomly whether hungry or not?
Eats "like a horse" and is hungry right afterwards. These people will eat three snacks in a row from 9:00PM to bedtime?
Getting between this person and sugar could be hazardous to your health?
Can't stop eating breads, pastas, cakes, cookies, chips and junk foods?
Has belly fat or a large abdomen?
Is just tired all the time?
Just generally "feels like crap" so much of the time that it has become the new normal?
Gets randomly dizzy?
Has periods of behavior that are just… well, psychotic?
Complains about their memory and is suffering with an inability to remember important and even simple things?
Each of the above problems can originate from a blood sugar problem.  Maintaining a controlled blood sugar level is imperative for your optimal health. Even if you have not been diagnosed with having diabetes, blood sugar levels that are consistently unbalanced can have detrimental effects on your body. For more details on the effects watch this video: Sugar In Your Diet–What it really does to your body
Imbalances in sugar can lead to loss in energy, changes in metabolism, weight gain and even diabetes. This is why it is important to be aware of signs that your blood sugar levels are not staying level.
Fixing the Blood Sugar Imbalance
What can you do to keep your blood sugar balanced? The answer depends entirely on what is causing the problem, how long it's been happening and what other contributing issues may be happening at the same time.  SO: The first step to handle blood sugar would be to get tested to find the answer to these problems. Once we have the causes and areas of stress underlying the problem, a program (or just some simple diet and lifestyle actions) can be designed to support your body and help it heal.
To get tested and find out what's causing your problem, call us at 770.937.9200 and make an appointment for an initial evaluation.
OR…
You can do our Blood Sugar Program for less than $250 complete, which includes the testing as a part of the program!
What Does the 10-Day Blood Sugar Program Entail?
Autonomic Response Evaluation of your body's most stressed areas to determine the causes of your problems.
Professional consultation and interpretation of your test results and recommendations.
10-Day supply of supplements and dietary guidelines.

SP Complete: Whole Food supplement shake that includes amino acids, essential fatty acids, vegetable concentrates, and powerful antioxidant protection to support the entire range of body systems.
SP Cleanse: Combines 20 unique whole food and botanical ingredients designed to support the body's normal toxin removal process.
Diaplex: Encourages healthy blood sugar levels and supports healthy function of the pancreas when combined with a balanced diet.
Gymnema: An herbal product that helps maintain healthy blood sugar levels when combined with a balanced diet.

Professional guidance from caring practitioners.
So What Could Happen By Doing the Program?
Weight loss
Better sleep
Less cravings
More energy, less fatigue
More balanced cholesterol
Healthier blood sugar levels (if the person has diagnosed blood sugar problems)
And more!
What You Can Do Next
If you want to find out if this program is right for you or for a friend of yours, call the office and talk to Tamiko. 770-937-9200.
Get Great Information about your Health
Weekly blog posts with vital tips and warnings
Interesting "pass it along" health facts
Cutting edge natural healing techniques and advice