Rosemary-Orange Sautéed Chicken
This is a great recipe from Cuisine at Home magazine.
Makes: 4 chicken breast halves
Total time: 20 minutes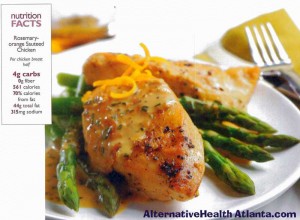 INGREDIENTS:
Sauté in 2T. Olive Oil:
4 boneless, skinless chicken breast halves (cut in half if large), seasoned with salt and pepper.
Remove; Add
1 T. garlic, minced
Deglaze with; Reduce:
3/4 Cup dry white wine or chicken broth
Add:
3/4 Cup organic heavy cream
1/2 t. Salt
Juice of one orange
Return Chicken to Pan; Add:
2 t. chopped fresh rosemary
Zest of one orange
DIRECTIONS:
Sauté chicken in oil over medium-high heat in large sauté pan to develop a deep golden color, about 5-6 minute per side.
Remove chicken from pan and set aside. Add garlic and cook 1 minute.
Deglaze with wine or broth and reduce by half. (Deglaze means to add the liquid to the hot pan that you just cooked the chicken and garlic in and scrape up and browned bits stuck to the pan.  Then simmer liquid until it is reduced by half.)
Add cream. salt and juice. Reduce heat to medium-low and bring to a simmer.
Return chicken to pan, flip to coat with sauce, and add rosemary and zest; serve immediately. Serve with roasted asparagus.