Greek Salsa Lemon Chicken
Check out this yummy recipe from Cuisine at Home magazine.
Makes 4 Servings
Total time: 1 1/2 hours.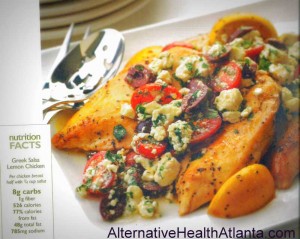 Ingredients
(For the Salsa)
Combine:
8 Oz. crumbled feta cheese
1 pint grape tomatoes, halved
1/2 cup kalamata olives, pitted
1/2 cup fresh lemon juice
1/2 cup extra-virgin olive oil
1/2 cup minced fresh parsley
2 T. chopped fresh oregano
(For the chicken)
Saute in 2T. Olive Oil:
4 boneless, skinless, chicken breast halves (6oz. each), seasoned with salt and pepper
Squeeze over chicken and then add to the pan:
DIRECTIONS:
Preheat oven to 450 degrees.
Combine all salsa ingredients in a large bowl, set aside.
Saute chicken in oil over medium-high heat in large oven-proof skillet until golden brown.
Squeeze lemon over chicken. Add lemon wedges to pan. Transfer to oven and roast until internal temperature hits 165 degrees, about 30minutes.
Transfer chicken and lemons to a large platter and serve with salsa.