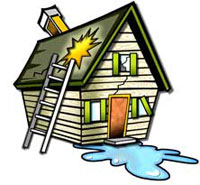 Shutting the stable door after the horse has bolted
This old adage means that you are doing something about a problem after the problem has already occurred.
I think it perfectly describes our current efforts at preventing heart disease.
How successfully are we preventing a disease that 48.5% of the population is suffering from? (2016 numbers). I'd say we are utterly failing.
The reason for this failure is that all the preventative measures are being taken to reduce the problem AFTER it's already happened.
Example:
Here's an invented scenario that's similar to heart disease:
"Disease:" Floor Rot.
Symptoms: Floor collapses under people's feet causing injury and death.
Actual Cause: The roof leaks, and the constant water on the floor rots the floorboards.
"Official" Cause: "Floorboard Anemia" or weakness in the floor.
Floorboard Anemia Prevention:
(Suggestions are from the Floorboard Anemia Association). ?
Regular mopping of your floors to reduce water buildup.
Spreading around the medication "Sawdust" every day to sop up additional water.
Open Floorboard Surgery to replace rotting floorboards.
Dieting to lose weight so you're less likely to break through the floor.
If "Floorboard Anemia" was injuring or killing 48.5% of the population and people were paying over $500 Billion annually to treat it, can you see how outrageous it might seem to make a statement like the title of this article? "Floorboard Anemia Prevention is Bogus?"
Can you see how radical it might sound to suggest fixing the roof if every pharmacy in the country was selling $500 a year in "Sawdust" medications to half the population? How about if every hospital in the country depended on the income from "Open Floorboard Surgery?"
"Fixing the Roof" of Cardiovascular Disease
Atherosclerosis is the most common cause of cardiovascular disease. (Link is to Mayo Clinic website)
Atherosclerosis is the buildup of fatty plaques in the arteries. Atherosclerosis is an inflammatory disease.
The "leaky roof" in heart disease is CHRONIC INFLAMMATION. If this leaky roof was repaired, heart disease from other sources would still exist, but as a minor health condition, not the #1 cause of death that it is today.
All About Inflammation
Inflammation is the response of the immune system to cellular damage and physical stress. It's the process of repairing damage to your body. So, normal inflammation is a very good thing and is necessary to your continued health.
Health problems such as heart disease come from CHRONIC inflammation. Chronic just means that it doesn't go away or keeps coming back.
Chronic inflammation comes from chronic sources of stress. When your body is constantly being damaged and can't repair itself, the immune system will always be creating inflammation.
Some sources of chronic stress are obvious and can possibly be avoided:
Smoking
Obesity
Excessive alcohol or other drugs
Long-term exposure to irritants such as polluted air or industrial chemicals
Living under constant emotional stress
There are functional causes of chronic stress that lead to chronic inflammation as well:
Autoimmune diseases
Infections or injuries that never heal
A very common source of chronic inflammation that I see at the clinic is from damage to the lining of the intestines. (Link is to Harvard Medical School website). In an unhealthy intestine, the lining can weaken and allow toxins and bacteria to get into the bloodstream, causing chronic inflammation. In my 25 years of experience working with severe chronic health conditions, I have seen this digestive problem expand from being an occasional issue to one that affects most of my patients in one way or another.
Solutions to Chronic Inflammation
Chronic inflammation is the "leaky roof" of heart disease, but is also implicated in cancer, arthritis, diabetes, asthma and neurodegenerative diseases (such as Alzheimer's).
Common symptoms that you might experience include fatigue, mouth sores, rashes, IBS symptoms, abdominal pain and chest pain. If you have one or more of these and they never go away, it's likely caused by chronic inflammation.
I have developed effective solutions that have been proven with thousands of inflamed patients over more than two decades.
All these solutions are typically done together simultaneously:
First: Test to confirm the inflammation using nervous system testing and blood testing. This also sets a baseline, so I know how much improvement has occurred with objective measures.
Second: Handle obvious diet-related causes. I have worked out very successful ways of doing this that don't cause stress, cravings or feeling deprived.
Third: Use clinical nutrition to give the body exactly what it tests for in the way of replacement parts and supplies so that it can de-stress and reduce its own inflammatory responses.
Fourth: Use very specific acupressure therapies to reduce stress (particularly if the person has inflammatory gut problems) and therefore reduce inflammation.
How Could You Assist Your Body to Heal?
Here is a free booklet you can read online in 30 minutes that will explain how your body can be assisted to heal itself successfully from many "permanent" medical conditions such as chronic inflammation.
Are You Fed Up with Medicine and Want Help?
I'd be happy to get you started on improving your health. If you'll fill out a health assessment on this website, I'll go over the clues with you on a free phone consult (limited to greater Atlanta area). This way you can get started doing something about your health problems quickly.
Get Great Information about your Health
Weekly blog posts with vital tips and warnings
Interesting "pass it along" health facts
Cutting edge natural healing techniques and advice