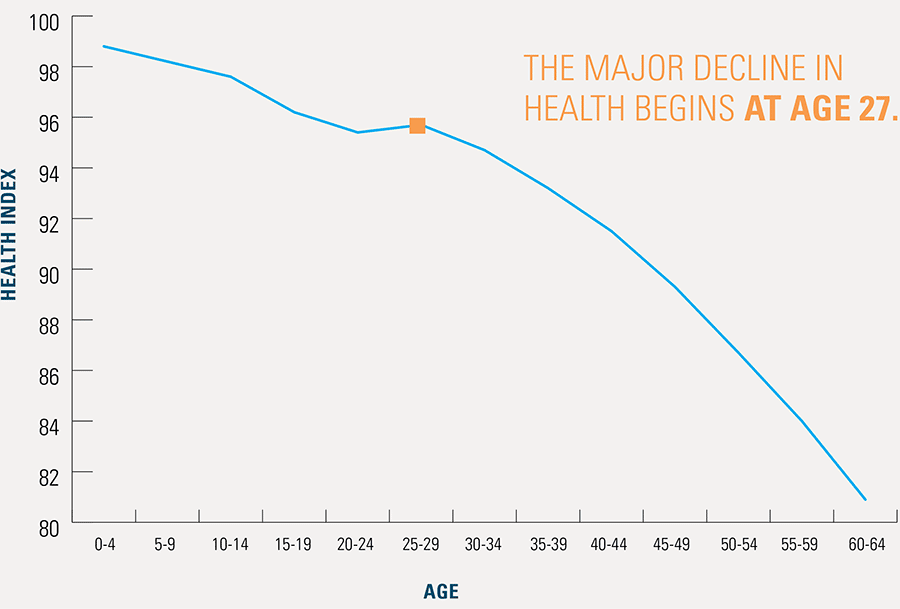 I just saw some startling statistics from a recent Blue Cross Blue Shield (BCBS) report:
After age 27, Millennials chances of major health problems increase sharply
Millennials have higher rates of common health conditions than their Gen-X predecessors did at the same ages
As their health continues to decline, Millennials are going to be a huge financial burden on the already overwhelmed healthcare system.
Think about this: Before they reach their third decade of life, Millennials are at risk for chronic diseases that their grandparents may be facing.
Two Questions:
ONE: Why? What is destroying the health of young people who have grown up with the latest advancements of medicine, diet and a cleaner environment?
TWO: How can this trend be reversed, and how can we make sure that the next generation isn't in even worse condition?
Children's Health Has Been Sliding for Generations
You've almost certainly noticed that there has been a long-term health slide for our kids. I can recall that when I was in grade school, kids weren't on drugs for ADHD. The school wasn't a "peanut free zone" because of severe food allergies. There weren't any diabetics in my class. There weren't more than a couple of "fat kids" in my class, either.
The reason behind this deterioration of children's health would likely be a major reason for the data in this Blue Cross Blue Shield study.
The Reason? Gut Microbes
In your body, there are about 10 times as many microbes as there are cells. That's about 360 trillion microbes… mostly in your small intestine. You can't live without these gut microbes, as they provide many services for your body including digesting your food and producing most of your immune system.
Here's an article from Scientific American on gut microbes
If you damage your supply of gut microbes, you become much more likely to develop many health conditions, especially those caused by a weakened immune system. This would include health conditions created by inflammation, auto-immune, allergies, etc.
Gut Microbes are damaged by:
Antibiotics (drugs you take, residual drugs in meat you eat, and environmental antibiotics in hand soap and many other products).
Food additives (preservatives, flavor enhancers, dyes, etc.)
Environmental chemicals you get exposed to all the time.
Eating too much sugar and refined carbohydrates (this causes fungus in your small intestine to overgrow and destroy the beneficial bacteria).
But the real catch is where your gut microbes come from: you get your mother's microbe culture during your birth. So, if she had damaged microbes, you were born with a compromised digestive and immune system. If you were a C-Section birth, it's even worse.
There are certainly many additional challenges that make it difficult to maintain good health in our society. However, most of these stresses piggyback on the gut microbe problem or are made much worse by it.
Then there's the single largest and most vicious reason for declining health: The Big Lie.
The Big Lie
The Big Lie is:
"Many health conditions are permanent; you can't get ever get completely well and will need ongoing treatment for the rest of your life."
This Lie applies to diagnosed diseases as well as non-diagnosed symptoms.
Here's a partial list:
Permanent Diagnosed Diseases:
Diabetes, high blood pressure, IBS, GERD, asthma, allergies, high cholesterol, depression, heart disease, arthritis, chronic respiratory diseases.
Permanent Symptoms (possibly without a diagnosis):
Fatigue, sleep problems, digestive problems, anxiety, hair loss, weight gain, back/shoulder/neck/knee/hand pain, brain fog, memory problems, menstrual and menopause problems, infertility.
I call this the Big Lie because I watch bodies become healthy and heal themselves of every one of these conditions on a regular basis.
None of these problems can be successfully solved using drugs or surgery, and our current medical system uses ONLY drugs and surgeries. So, medically all these conditions are permanent.
Also, our medical system considers that it is all-knowing, and that nothing else other than drugs and surgeries has any validity. So, if you can't get well medically then you better just learn to live with your problems.
Are You Fed Up with Medicine and Want Help?
Here is a free booklet you can read online in 30 minutes that will explain how your body can be assisted to heal itself successfully from many "permanent" medical conditions.
I'd be happy to get you started on improving your health. If you'll fill out a health assessment on this website, I'll go over the clues with you on a free phone consult (limited to greater Atlanta area). This way you can get started doing something about your health problems quickly.
Get Great Information about your Health
Weekly blog posts with vital tips and warnings
Interesting "pass it along" health facts
Cutting edge natural healing techniques and advice