New Patient Pre-Visit Requirements
Please read carefully and let us know immediately if you will have any difficulty with the following instructions:
BEFORE you spend your time, money and hope,
It's very important that:
We know enough about your case to be fairly sure we can help you.
You know enough about us and how our treatment programs work that you are fairly sure you'd want to work with us.
Here is how we go about finding this out:
You will complete a very detailed health history and present complaints form and send it to us within the next two days.*
You will read a short booklet describing what our treatment programs are, how they work and what you'd have to do if you started one. You'll need to have this booklet read by the time you send us your health history form.*
Once we receive your Health History Form, a doctor will review it.
A very knowledgeable technical staff member will call you to review the doctor's questions about your information, and to answer any questions you might have about our treatment programs (from the booklet you will have read).
Once these steps are completed, we will confirm your appointment date and time. (NOTE: If your appointment is several days in the future, we will reconfirm that you will be there with calls or texts. It's important that you reply to these reconfirm communications in order for us to keep your appointment reserved.)
The above steps are required for us to keep your appointment on our schedule. Let us know if you can't complete these steps right now, we can move you to our waiting list until you are ready to come in.
*If you will have any difficulty with these instructions, call us immediately so we can work out a solution.
Your New Patient Form must be completed and returned within two business days of the date on this email for us to keep your appointment on our schedule. *
The doctor will review your information and call you with questions if needed.
Optional: If you have any recent labs, please send these as well. You may email the labs, or pictures of them from your phone to PatientServices@AlternativeHealthAtlanta.com.
The form takes 45 – 60 minutes to complete for most patients. Please complete the form immediately and send it to us via email or fax.
*Special arrangements may be made if this requirement would be a hardship. Just call us.
Email Form to (PatientServices@AlternativeHealthAtlanta.com) or Fax to 888-908-2624.
AFTER YOU SEND YOUR FORM, PLEASE CALL US TO CONFIRM THAT WE RECEIVED IT! THANK YOU!
If you have any difficulty filling out or transmitting your form, please call us at (770) 937-9200. We can always help!
---
Please read the booklet EvecticsSM by the time you send in your New Patient Form, so that you can get any of your questions answered when we call with questions from your Form.
You can read the booklet from the link on this page.
---
To keep your reservation, we must hear from you to reconfirm your appointment.
We will call you to confirm one to three business days prior to your appointment. If we fail to reach you, please leave a message at (770) 937-9200, text us at (770)462-3140 or email us at PatientServices@AlternativeHealthAtlanta.com.
We have a list of patients waiting for initial visit openings and need to know for certain that you will be able to keep your appointment time. Because we want to help as many people as possible, unconfirmed appointments will be canceled so that we may see other patients on our waiting list.
---
Your initial visit will take about an hour.
Please be a little early, as our schedule often won't allow us to start an appointment late.
If you would like your appointment to be moved to an earlier date, let us know and we'll add your name to the list and call you if there is an opening.
Please be aware that we see many allergy cases that are extremely sensitive to chemicals and fragrances. We ask that you not wear perfume, cologne or strong aftershave for your visit.
TO FIND OUR LOCATION:
1640 Powers Ferry Rd SE, Building 14, Suite 100
Marietta, Georgia 30068
770.937.9200
GPS: Make sure you put "SE" after "Powers Ferry Rd" or you'll go to Buckhead. There is a map of our office park on the New Patient Information Form so you can easily find our building.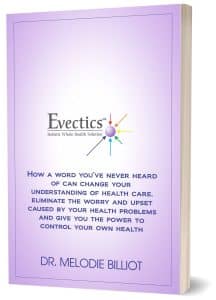 EvecticsSM is a unique concept in health care. To make it easy to understand, I have written this very short booklet outlining:
How an EvecticsSM treatment program works
What you need to know as an EvecticsSM patient
What you must do in order to do an EvecticsSM treatment program
Guidelines on how to proceed, depending on your specific situation
CLICK TO GO TO BOOKLET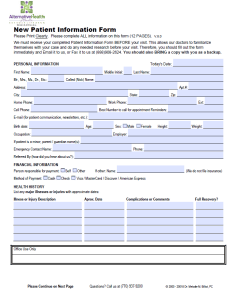 Please take your time and fill this form out completely and thoughtfully. The time and effort you put into this process could be rewarded with a dramatic improvement in your health and quality of life.
Please download the fillable PDF form, save it to your computer, fill it out and email it back to us within 2 business days.
CLICK TO GO TO PDF FORM
What Happens After My Visit?

After you complete your initial visit, the next day (or as soon as possible) you will be scheduled for a Report of Findings visit (the fee for this consultation is included in your initial visit fee). This visit will take about an hour, although you may be here an extra 40 – 60 minutes if you elect to start a program on this visit.
At this visit, you will learn:
The reasons why you have your health problems
What type of response to treatment the practitioner believes you can expect
The exact steps of your program to regain your health.
This would include what you would have to do, how often you'd have to visit, how long the program will likely take, and the costs involved.
If we feel we can help you and accept your case, and if you feel this clinic is a good match for you—that you can likely regain your health here—you will be ready to start an adventure in discovering your body's recuperative powers!
Most patients elect to begin their program and receive their first treatment at this second visit.
NOTE: If there is a person who would need to be a part of your scheduling and financial decisions, it's important to bring this person with you to your Report of Findings visit.