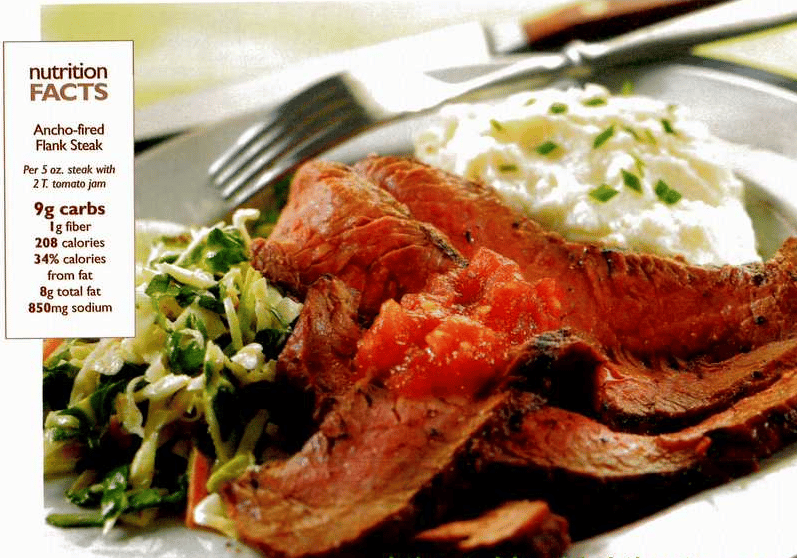 Ancho-Fired Flank Steak
This is a great recipe from Cuisine at Home magazine.
Makes: Four 5-oz. Servings
Total time: 45 minutes
INGREDIENTS:
For the tomato Jam:
Saute in 1 T. Olive Oil:
2 T. fresh ginger, peeled, minced
2 t. garlic, minced
Stir in:
2 cups tomatoes, seeded, diced (about 3)
2 T. fresh lemon juice
2 T. brown sugar or sucanat or coconut palm sugar
1 cinnamon stick
1/4 t. ground cumin
1/4 t. red pepper flakes
Off Heat , Add:
FOR THE STEAK-
Combine for the Rub:
2 T. fresh lime juice
1 T. ancho chili powder
1 t. dried oregano
1 t. ground cumin
1 t. kosher salt
1/2 t. black pepper
Coat with Rub; Grill:
DIRECTIONS:
For the tomato Jam–
Saute ginger and garlic in olive oil medium-low heat until soft (about five minutes).
Stir in tomatoes, lemon juice, brown sugar, cinnamon stick, cumin, red pepper flakes. Simmer until juices have evaporated (35-40 minutes) stirring often.
For the Steak–
Preheat grill to high. Combine ingredients for the rub. Coat flank steak thoroughly with rub. Brush grates of grill with vegetable oil. Place steak on grill, cover, and grill for 2 1/2 minutes. Flip steak and grill for another 2 1/2 minutes. Repeat procedure two more times. This keeps juices centered in the meat. Allow meat to rest 10 minutes. Slice against the grain with the knife at a steep angle— this will result in wider slices.
Get Great Information about your Health
Weekly blog posts with vital tips and warnings
Interesting "pass it along" health facts
Cutting edge natural healing techniques and advice