Find Out: What is Causing Your Health Problem and What You Can Do About It.
What's your first step?
Get a comprehensive Health Evaluation that includes:
An initial health evaluation (see details below)
A professional Report of Findings consultation that includes a summary of your health evaluation and a recommended customized health improvement program.
A Tissue Mineral Analysis lab test to determine vitamin and mineral levels and deficiencies. (more details below)
A follow up consultation on the Tissue Mineral Analysis lab test.
With all this information, you will know exactly what is going on with your body and what you can do to go about getting your health problems resolved.
What Does The Initial Health Evaluation Include?
  Find out What Organs are Stressed
We check 37 different organs and systems to determine if they are stressed.
The organs and systems we test are:
Adrenals
Bladder
Brain Front Cortex
Brain/Crown
Brain/CSF
Breasts
Bronchial
Cerebellum
Colon
Eyes
Gall Bladder
Heart
Hypothalamus
Jaw
Joints
Kidneys
Liver
Lungs
Muscles
Minerals
Ovaries
Pancreas
Para-thyroid
Pineal
Pituitary
Prostate
Scars
Sinus
Skin
Small Intestine
Spleen
Stomach
Testes
Thymus
Thyroid
Tonsils
Uterus
What Organ System is Most Stressed?
Your body can tell us which organ or system is the most stressed. In doing so, it is telling us what needs to be the main priority when it comes to improving your health.
What is the Cause of That Stress?
Anything can cause stress on your organs and systems, but we typically find that there are 5  hidden health stressors that most negatively impact your organs or systems. They are:
Food allergies, sensitivities
Infections
Chemicals/Pesticides
Heavy Metals
Scars
Food and Environmental Allergy/Sensitivity Testing
This is a test for nervous system stress on common food and environmental allergies to determine your body's overall level of stress due to allergies or sensitivities. If you have sensitivities, it is possible that your body is under a lot of stress all the time as your body tries to fight off what it thinks is a foreign, dangerous object. The basic allergies/sensitivities we test for are:
Wheat Mix
Egg Mix
Calcium
Vitamin C
B Complex
Sugar Mix
Iron Mix
Vitamin A
Mineral Mix
Salt Mix
Chlorides
Artificial Sweeteners
Corn Mix
Grain Mix
 Hormone Testing
This is a test to determine your body's overall level of stress due to a malfunctioning hormone system. A hormone is a chemical released by a cell, a gland or an organ in one part of the body that affects cells in other parts of the body.
Is Your Nervous System Stressed and Preventing Your Body From Healing?
If your nervous system isn't working properly, you can't get well. We use sophisticated software to analyze your nervous system by testing the variability of your heart rate ("HRV" or Heart Rate Variability testing. This is a primary method of researching the nervous system used in universities and research facilities). Understanding your heart rate variability helps us to determine how your nervous system is working.  You'll be able  to quickly see if you are in the best condition, worst condition, or somewhere in between. More importantly, HRV testing indicates if there are malfunctions in your nervous system that may have caused long-term problems with healing (autonomic dysregulation and autonomic blocking). Often severe chronic conditions have these nervous system malfunctions as a part of the problem.
What is the Tissue Mineral Analysis Lab Test? And What Will it Tell Me?
The Analytical Research Labs Tissue Mineral Analysis is a screening for the level of 20 minerals and toxic metals in a sample of hair. It is a tissue mineral biopsy that is non-invasive and extremely accurate. By looking at the levels and ratios, we can fine-tune our recommendations on a health improvement program.  Here's an example of what a test looks like:
Hover over image to zoom in.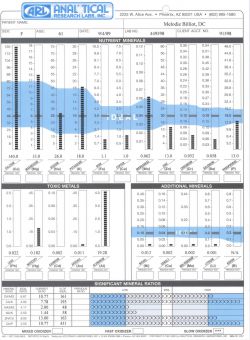 Tissue Mineral Analysis from Analytical Research Labs
The mineral ratios above (at the bottom of the report) gives us a lot of information about your body. For example, a low Na/K (Sodium/Potassium) ratio is a good indicator of decreased adrenal effect (exhaustion), chronic stress, lowered energy and energy reserves, decreased immunity, poor digestion, liver and kidney stress, cardiovascular stress, and more.
Your Next Step?
As you can see, this is a very comprehensive evaluation. This information we obtain in the evaluation allows us to develop a complete, Individualized Therapy Program, offered exclusively at Alternative Health Atlanta. This can change your life… if you'll let it!  Schedule your Evaluation right now.
Call us at 770-612-1100 and schedule your initial health evaluation.