EvecticsSM Weight/Body Shape Evaluation
If you want to schedule an Evaluation, or if you would like more  information, just scroll down to the Contact Form at the bottom of this page. One of our staff will contact you right away.
OR: Call (770)612-1100 during clinic hours.
NOTE: Although out clinic is in Marietta, Georgia (near Atlanta), we help patients from all over the US and other countries via phone consults. Just fill out the contact form and we'll arrange a free consultation to discuss these options and see if there is a good fit for your particular situation.
What is a Weight/Body Shape Evaluation?
Your weight, shape and metabolism are controlled by your hormones. Some hormones, such as insulin, store "excess" energy as fat. Others, such as glucagon, GH, etc. are fat burning hormones. Other "master" hormones control many other hormones and all basic functions of your body. If the glands that produce these hormones break down or begin to malfunction, your body will begin to change shape and store fat in certain areas, which causes a particular body type: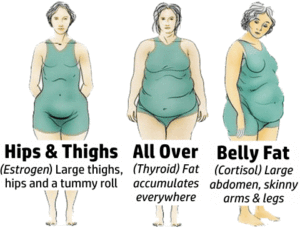 Hormone glands don't break down for no reason. There is always a cause, which can be discovered. The purpose of a Weight / Body Shape Evaluation is to locate this cause and other information needed to design an effective program of therapy to help the body to correct.
This is a completely different approach from conventional weight loss, which focuses on dieting, calories and exercise. If diet/exercise has never worked for you, or if you can lose weight but it always returns, then there is a CAUSE that can be discovered to help your body balance hormones and achieve a normal, healthy shape and weight.
Fees and Time
No-Risk Initial Evaluation Policy: "If during your initial visit it is determined that you are not a good fit for our programs, there will be no charge for the visit. This allows you to find out about an EvecticsSM program for yourself without financial risk."
An EvecticsSM  Weight/Body Shape Evaluation consists of two visits:
A testing visit that takes about an hour
A consultation visit to go over the results of the testing and recommendations that takes about an hour
The fee for these two visits (combined) is $170. There will be no other fees or cost until you are fully informed of your proposed therapy program, including estimated length of time and costs.
[contact-form-7 id="828″ title="New Patient Visit"]